Góngora vs. Gonzalez Echoes of a painful election
Radio Free Miami Beach
An accomplished public servant with a visionary perspective on the future of the community in question. A businessman perceived as being "successful," but with serious lingering questions about acumen and ethics who suddenly takes an interest in elective office.
If it sounds like an election cycle with which you're familiar (and possibly still angry), then you might be right. Only it might not be quite the election competition between presidential competitors.
Instead, it characterizes a contest right here at home in Miami Beach, pitting former Miami Beach commissioner and well-known community activist Michael Góngora and political newcomer and alleged successful businessman Adrian Gonzalez in a race for city commission.
In the longtime public servant role is Góngora. The attorney, activist and former commissioner lost a bid for mayor of Miami Beach in 2013 to Philip Levine by a handful of votes despite going toe-to-toe with a candidate, in Levine, with a media empire and virtually unlimited resources to back his campaign. Prior to that election, Góngora had already defined himself to a Beach community that appreciated his public visibility, easy access and progressive position on issues such as the environment, civil and human rights and financial responsibility.
Góngora made a name for himself by resisting the pressure of fellow city commissioners and being a maverick voice for undeserved members of the community and those with concerns about the coming environmental threat to Miami Beach – something that dominates the discussion of Beach issues today. Despite often brutal attacks on his character, Góngora achieved something few city commissioners have – a public service career devoid of any scandal or rumor campaign with any bases in fact.
Opposing Góngora's effort to return to the commission – supported by the majority of local public figures and the Miami Herald – is alleged successful businessman Adrian Gonzalez. The newcomer to public life, devoid of any record of service, is running as a fellow longtime local whose business acumen is his sole qualification. Gonzalez and family owned David's Cafe and David's Cafe II. Both Cuban diners enjoyed periods of popularity and for many years, David's Cafe II was a favorite stop for street-level political operatives, lobbyists (legal and not) and politicians seeking to build favor with the city's Spanish-speaking electorate.
Unfortunately, according to the State of Florida and other authorities, neither Gonzalez nor David's were what they appeared on the surface to be. On the surface a successful business operator, records reveal that this success came from cutting corners; such as grotesque violations of health codes and a tendency to stiff employees for their legally obligated pay.
So much for a successful businessman, Gonzalez's only visible qualification for office.
As it turns out, the eateries Gonzalez operated and/or worked in might not have been exactly safe in which to dine. In fact, given the number and scope of health code violations that Gonzalez's restaurants had, dining there might have been far more perilous than engaging in South Florida politics – which says something.
Health officials having a look at David's Cafe Cafecito revealed seven "high priority violations." High priority violations consist of "those which could contribute directly to a foodborne illness or injury and include items such as cooking, reheating, cooling and hand-washing."
That's in addition to numerous intermediate and countless basic violations that, in aggregate, foster a vision of a dangerous food preparation and service business – some vile, such as employees not washing hands with actual soap and, worst, food products stored in Home Depot buckets. Dozens of other violations demonstrate not just the occasional employee error, but rather a culture of lackadaisical management.
Interested in specifics? If you have the stomach, check out [Read the health code violations] for full details.
Of course, a lot of errors, however repugnant, can be pinned on employees if they are rare enough. In this case, however, the health code violations aren't rare. And if employees did make mistakes, it's perhaps understandable – since according to authorities and media reports, employees weren't even being paid.
That's right. This longtime business, fronted by Gonzalez, showed as much respect for labor laws as it did for health codes. As in, none.
As far back as 2013, federal – repeat, federal – authorities were on the tail of David's Cafe for refusing to pay numerous – dozens even – of employees – Miami Herald
According to the Miami Herald, "David's Cafe has been the target of several protests by former employees who claim they are owed more than $70,000 for months of work without pay. The group consists of former workers at David's Cafe at 1058 Collins Ave. and David's Cafe II, which closed in 2012, when its owners claimed they could no longer afford to pay rent."
Nearly two dozen employees filed lawsuits citing they had not been paid, with Gonzalez asserting that the company couldn't even afford to pay the rent for the historic business.
According to a February 2013 article in the Miami Herald, "In late December 2012, an official with Miami-Dade County assigned to the case, ruled in favor of 14 former restaurant workers and ordered David's Cafe to pay triple the amount owed to each worker, plus administrative costs. Those workers have yet to receive payment. Although the Gonzalez family has acknowledged they owe the money, they say their company has no funds to pay."
In 2013, an attorney for unpaid service staff asserted "They have been able to get away with it because they keep saying that their corporation is bankrupt, so they can't afford to pay what they owe the workers," said the group's attorney Noah Warman. "But under the federal law (Fair Labor Standards Act), they themselves are liable for the abuse and for paying their workers with checks that bounce."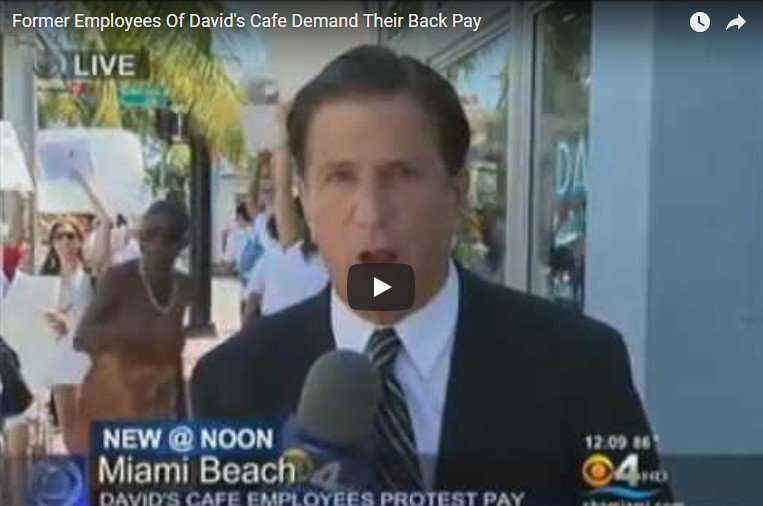 Click here if video above does not play
Spanish Video Report click here
In 2014, less than two years after its Lincoln Road location was forced to close, David's Cafe on Collins Avenue was forced to close, with health code issues, lawsuits and alleged mismanagement prompting the end of a cafe Cubano empire disappearing after almost four decades in Miami Beach.
If Gonzalez was concerned about the fate of his working-class staff, one couldn't necessarily tell. When confronted by upset employees, the comfortable Gonzalez – who had claimed the company had no money to pay workers, many of whom worked for little more than minimum wage –  appeared nonplussed. Warning: it might be upsetting, but check out Gonzalez's live reaction here:
A business failure certainly doesn't disqualify one from running for or holding public office. If so, there would be no President Donald Trump.
However, it can't help but give a moment to pause.
Miami Beach's election is not a rematch of the presidential election, but denying the similarities is simply ignorant. In one corner is a lifelong public servant – only, in this case, one without the baggage of scandal. In the other corner is a business operator with few other credentials – and plenty of baggage revolving around just what kind of business he actually worked in and operated for decades.
Radio Free Miami Beach
About the author:          
Michael W. Sasser has been a figure in Miami Beach media since the early 1990s when his first book (for Simon & Schuster) featured the real-life heroism of Miami Beach firefighters. He went on to be an editor, political editor, or political columnist for the Miami Beach SunPost, Wire Magazine and, most recently, the Miami Beach Centennial book. An award-winning author and journalist, Sasser's resume includes more than 30 books in prints, contributions to every major travel/historic guide related to Miami Beach, and well over 10,000 articles in print. His work has been translated into dozens of languages and he has been named one of South Beach's early pioneers for his support of preservation, reform and his role with the original Save Miami Beach movement. A world traveler, he continues to consider Miami Beach his home city.