Safety Tips for Your Home While You're on Vacation
Safety Tips December is the time to "vacay," hit the slopes, and leave your worries back in Miami Beach, but is your house safe while you're away?
According to the 
Federal Bureau of Investigation
, in 2010 a property crime occurred every 3.5 seconds, and one burglary every 14.6 seconds. Don't become a statistic, follow the guidelines below to make sure your holiday isn't ruined by a Grinch.

Hurricane proof windows are a protective barrier against major storms and debris, but they are NOT a deterrent against criminals. Do not assume your house is safe because you have impact windows. Extra measures still need to be implemented.
Target Hardening Your Home
"Target hardening" is a way of making your house an undesirable option for criminals. Increase your security and follow these crime prevention tips to target harden your home. Target hardening involves initiating steps and efforts designed to make it harder for a crime to be committed and reduces the gains of crime. Target hardening increases the efforts that offenders must expend in the commission of a crime and is the most long-established and traditional approach to crime prevention. It is directed at denying or limiting access to a crime target through the use of physical barriers such as fences, gates, locks, electronic alarms and security patrols.
Making your home safe from crime can start with properly locked doors and windows, proper home security lighting, maintaining landscaping and adhering to home security tips.
PROTECTING YOUR HOME
Lock all doors and windows. Most burglars enter through unlocked entries. Don't make it easy for them.
If you have an alarm system, use it. Consider installing an alarm system if you do not have one.
Lock and secure all vehicles. Garages should be kept closed and locked when not being used.
Do not leave bicycles, tools and other items outside the house or in the driveway.
Set an automatic timer for lights if you go away, and ask a trusted friend or neighbor to keep an eye out.
Some cities provide a "Watch Order", giving police permission to check on your home if you go away for a period of time.
Refrain from using social networks to announce a trip.
Do not leave an answering machine or voice mail greeting stating you are away and not home.
OUTDOOR LIGHTING
Install and maintain the perimeter and spotlighting your home.
Leave outside lights on after dark. Install timers, motion sensors, and other options to control frequency and lighting levels.
Entry doors, porches, backyards, and driveways should all have lighting to help deter criminal activity.
Know the difference between security lighting and decorative landscape lighting.
LANDSCAPING
Keep trees, shrubbery and bushes trimmed and well maintained. This helps with visibility and limits ability for someone to hide.
From the front, rear and sides of your yard, observe and dark areas and install some form of lighting.
Keep landscaping from obstructing lighting fixtures.
ACCESS CONTROL
Use double deadbolt locks with a 1″ throw.
Install strike latch plates on entry doors. These block the area of the door where something flat can be pried in to force open the locking device.
Install a Charlie Bar, which secures sliding glass doors and prevents them from opening.
For extra security, a doorknob vibration sensor can alert you if someone is tampering with a doorknob.
Never leave house keys hidden outside under a doormat or a flower pot.
The Crime Prevention Triangle theory states that in order for a crime to occur, three elements must be present. Desire, Ability, and Opportunity. If anyone of these is missing, no crime will occur. The main objective of Crime Prevention is to reduce the opportunity for crime, thereby reducing the likelihood that crime will occur.
Giving the Illusion of Occupancy
Now that your house is ready, its time to prepare for that long needed vacation.
Never ever advertise you are leaving town. Don't post pictures of your vacation on social media until after you return home.
Lock all windows and doors in your house.
Keep your car locked and the windows shut even if it is parked in the garage.
Trust a good neighbor to check on your home while you are away.
Make sure a neighbor has a way to shut off any alarms.
Create the illusion of occupancy. This can be done a number of ways: leaving a TV on, having music play, making sure lights are left on or are running on a timer.
The illusion of occupancy doesn't stop there as you can set a stage for those who are peering in. Leave your vacuum out with the lead going out of site (unplugged.) Leave a filled glass and an open book on a table near a window. This list goes on of scenarios that could be set up to give the appearance of occupancy.
Don't leave your mail piling up as that is a clear indicator no one is home. Have a trusted neighbor or family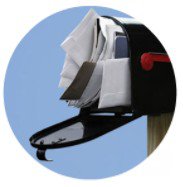 member pick it up, or have your mail held for you by the post office. You can keep your mail safely at your local Post Office™ until you return.
Schedule Hold Mail Service. You can notify us up to 30 days in advance or as early as the next scheduled delivery day. Request your start date by 
3 AM ET
 (
2 AM CT
 or 
12 AM PT
) on your requested day, 
Monday
 – 
Saturday
. (NOTE: For hold times greater than 30 days, please sign up for a 
USPS Forward Mail Service
.)
Watch Order
If you will be away from home for an extended period of time we will gladly place a watch order on your home. Please call the Operations Division at 
305.673.7933
 to schedule the watch order. Keep in mind this is a courtesy watch order and is intended as an additional layer of security.