MB Mayor Philip Levine Excuses, Failures, and Money
MB Mayor Philip Levine Excuses,  Failures, and Money
Dear Friends and Neighbors,
When it comes to severe weather and flooding, South Florida is entering the most active time of year for tropical storms and hurricanes. In addition, we are expecting extreme king tides in September, October, and November.
The city is working hard to raise roads and install larger stormwater pipes and pumps to help mitigate flooding. The city is also installing permanent and temporary generators to help reinforce our pumping system should it lose power when it's needed the most. We are only 15% complete with this $500M project and are still eight years away from project completion. Even with these upgrades, the stormwater system is not designed to handle the large, intense volumes of water we see with extreme tropical storm and hurricane events.
The National Weather Service is predicting heavy rains this week. I encourage you to be prepared and take the necessary measures to protect yourself and your property. For businesses that know they are in low-lying and flood prone areas, this includes using flood panels when heavy rainfall is expected.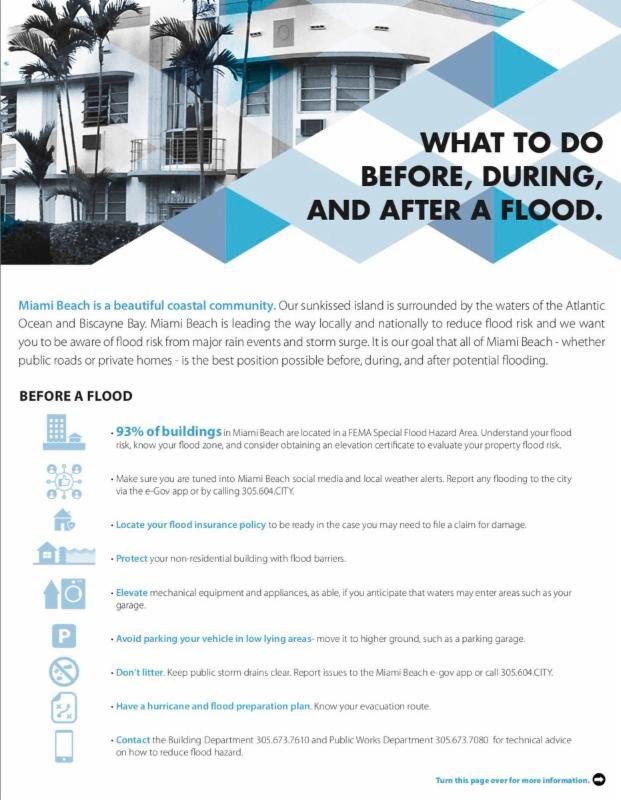 Tips to Remember Before a Heavy Rainfall:
Protect your business with flood barriers.
Make sure you are tuned into Miami Beach social media and local weather alerts.
Understand your flood risk, know your flood zone, consider obtaining an elevation certificate to evaluate your property flood risk.
Locate your flood insurance policy to be ready in the case you may need to file a claim for damage.
Elevate mechanical equipment and appliances if you anticipate that waters may enter areas such as your garage.
 Avoid parking your vehicle in low lying areas – move it to higher ground, such as a parking garage.
Don't litter. Keep public storm drains clear.
Have a hurricane and flood preparation plan. Know your evacuation route.
Philip Levine
Mayor of Miami Beach